Medrese'de Yaşam
Amfi tiyatrosu, avlusu, 2 büyük çalışma salonu, 3 stüdyosu, kütüphanesi, ortak yaşam alanları, mutfağı, yatakhaneleri, özel odaları ve çadır alanı ile Stoa 6000m2'ye inşaa edilmiş eşsiz bir yapıdır.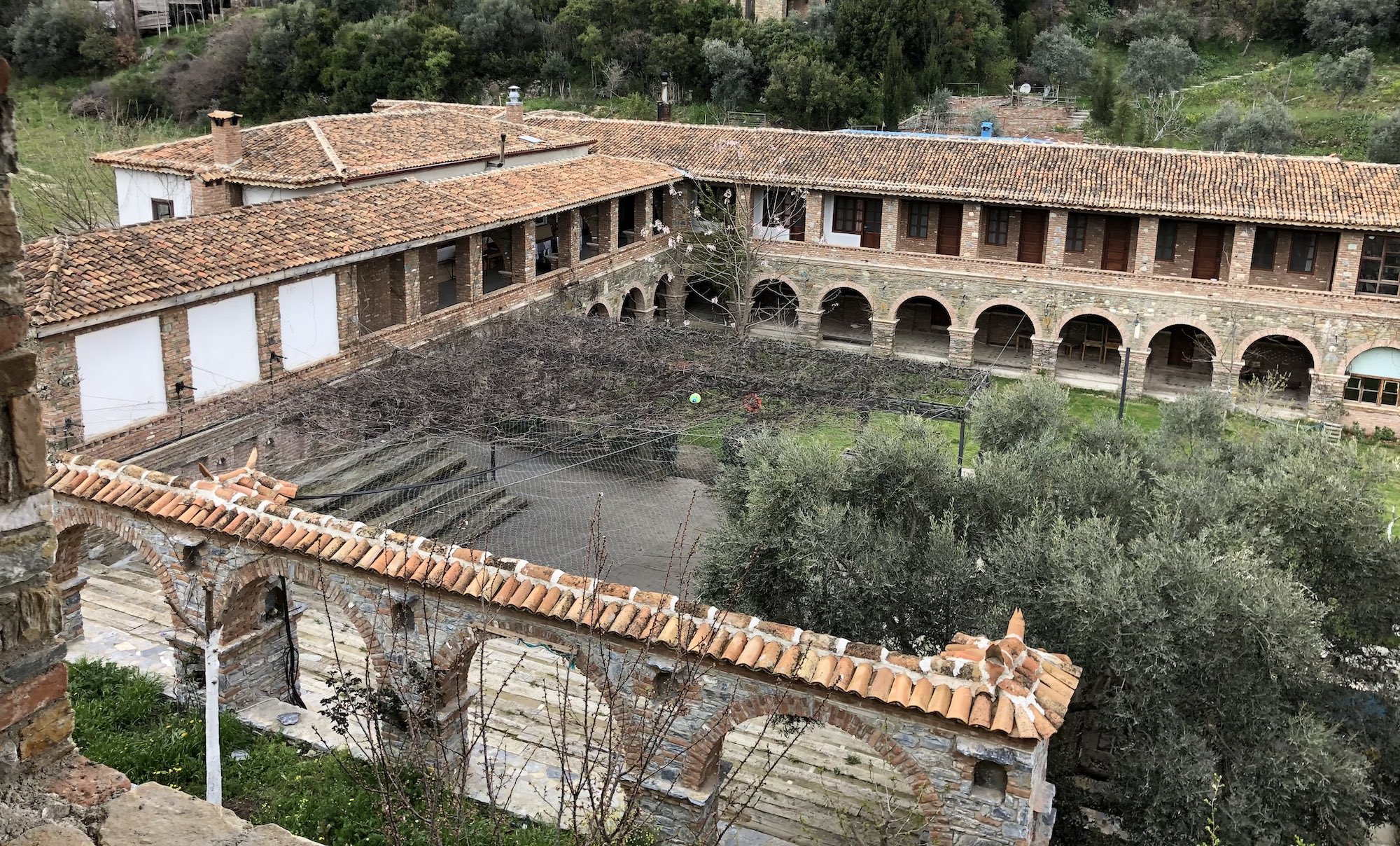 Oğuz Atay Salonu
The space that  we cannot share and even fight to rehearse in it.  It is impossible for a performer to stop the temptation to rehearse, play, sing or dance when. 200 m2, meters length.
Adalet Ağaoğlu Salonu
125m2 and has 6 meters length. Wooden floor, so ideal for performance work, dance, yoga and meditation. It has central heating system, there is also a wood burning stove.
Stüdyolar
There are 3 more study halls, which are relatively smaller than the large halls; 70, 75 and 80 m². These halls can also be used as classrooms. It is quite suitable for simultaneous work.
Avlu
A 800m2 area, seems like endless and merging with the mountains far away ideal for the morning working sessions, yoga while watching the sun rise or in the  afternoon to work in the breeze.
Amfi Tiyatro
It is a "bouleuterion" with 250 seats and 90m2 stage area. This place that we call it amphitheater anyway, hosted lots of performances, concerts, workshops, evening chats.
Behram Yiğit Kütüphanesi
A library focused on world and Turkish theater and performance arts, philosophy and human sciences. A peaceful working atmosphere with a magnicifent view.
The number of the beds shows the optimum number. We can arrange the rooms for more and less people, if necessary.
Yatakhaneler
There are three large dormitories (18, 14, 8 people) and 3 Small dormitories (4 people), all with central heating & shared bahtroom. Total bed capacity in dormitories is 52.
Özel Odalar
All rooms can be arranged as single and double, and some as triple. All of them have private bathroom and central heating system. The total bed capacity of the rooms is 40.
Mutfak ve Salon
The menu is mainly vegetables. A vegan/vegetarian friendly kitchen. Meats are cooked in different pots.
Ortak Tuvaletler ve Duşlar
Shared toilets and showers are very clean, with hot water 24 hours a day.